In this article, we have created a ranking of Clifford Brown.
For the other jazzmen I've covered so far, I've introduced songs that are easily accepted by non-jazz fans.
In the case of Clifford Brown, however, there are no such songs.
After all, Clifford died in 1956, when rock music was still in its infancy.
However, his performance is full of the charm of jazz.
Please enjoy the charm of hard bop to the fullest.
This blog is an automatic translation of a Japanese blog into English.
Please understand that it may be difficult to read.

No.1「Cherokee」(Album:Study in Brown)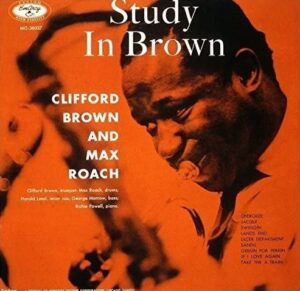 ■Song Title:Cherokee
■Album Name:Study in Brown
■Video link:「Cherokee」
Ray Noble wrote this song borrowing a melody from the Cherokee Indians.
This tune seems to be favored by technically proficient players from Charlie Parker to John McLaughlin.
Another well known jazz trumpet rendition of this tune is by Wynton Marsalis.
Wynton probably used the part from 4:54 as a reference.
The highlight of this piece is the trumpet solo at 1:17.
Clifford's playing here is very emotional, while fast playing can be mechanical.
There is a sense of spaciousness even in his fast playing.
Clifford is not only an excellent technical player.
No.2「Joy Spring」(Album:Clifford Brown & Max Roach)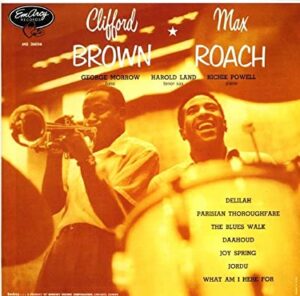 ■Song Title:Joy Spring
■Album Name:Clifford Brown & Max Roach
■Video link:「Joy Spring」
At this time, it was a two-headed band called the Clifford Brown-Max Roach Quintet.
The members other than Clifford are as follows
・Max Roach: drums
・George Morrow: bass
・Harold Land: tenor saxophone
・Richie Powell: piano
・Bud Powell's brother
This is the album that represents EmArcy Records.
I like this album the most among EmArcy's many masterpieces.
The other songs on this album are almost as good as "Delilah", "Daahoud", "Parisian Thoroughfare", etc.
At 1:45, Clifford, who was only 23 years old at the time, starts his trumpet solo.
I think the general image of Clifford's performance is this kind of lively performance at a medium tempo.
No.3「Love Is a Many-Splendored Thing」(Album:Clifford Brown and Max Roach at Basin Street)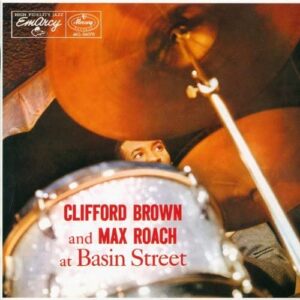 ■Song Title:Love Is a Many-Splendored Thing
■Album Name:Clifford Brown and Max Roach at Basin Street
■Video link:「Love Is a Many-Splendored Thing」
This song is the theme song of the movie "Love Is a Many-Splendored Thing".
First of all, the interpretation of the original melody is exquisite.
The trumpet solo starts at the 31-second mark, and it's a very lively performance.
On this album, Sonny Rollins plays tenor saxophone instead of Harold Land.
Rollins is said to be a bit sluggish on this album.
This album was recorded in January and February 1956, but in June of the same year, Rollins made a complete comeback with his masterpiece "Saxophone Colossus".
Returning to this album, there are many strong songs, especially in the first half, such as "What Is This Thing Called Love?" and "I'll Remember April," which are all equally great.
However, on the CD I have, "Flossie Lou" is included in four consecutive songs, including another take.
Four songs in a row is a bit much, though.
No.4「Bellarosa」(Album:Memorial Album)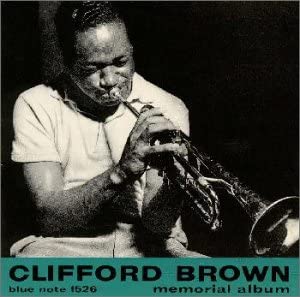 ■Song Title:Bellarosa
■Album Name:Memorial Album
■Video link:「Bellarosa」
It seems to be confusing with "Memorial" that I mentioned earlier, but "Memorial" is on the Prestige label and "Memorial Album" is on Blue Note.
Both albums were planned in response to Brownie's death.
I love this song written by Elmo Hope.
I love this song written by Elmo Hope. The optimistic tone of the song goes very well with Clifford's trumpet.
The tone of his trumpet is said to be brilliant.
This means that the sound is taut, but it could also be described as having a luster to the tone.
As a matter of fact, the tone of the trumpet must be brilliant before playing.
This may be Clifford's greatest weapon.
No.5「Lover Come Back to Me」(Album:Memorial)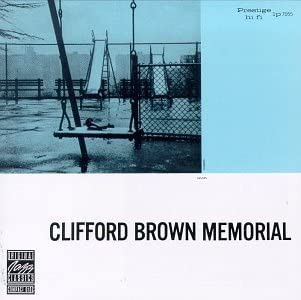 ■Song Title:Lover Come Back to Me
■Album Name:Memorial
■Video link:「Lover Come Back to Me」
I did not cover ballads this time.
Clifford has a collection of ballads called "Clifford Brown with Strings," but I don't like it very much.
The performance itself is good, but the strings seem to get in the way.
Also, the performance is not as improvised as usual, so I find it somewhat uninteresting.
It may be that I'm just not a good listener.
Instead, I'd like to introduce you to this song.
The drums also provide good support with their brushes.
No.6「Salute to the Band Box(Master Take)」(Album:Complete Paris Sessions Vol.2)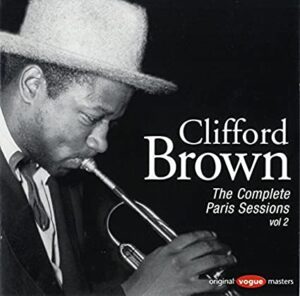 ■Song Title:Salute to the Band Box(Master Take)
■Album Name:Complete Paris Sessions Vol.2
■Video link:「Salute to the Band Box(Master Take)」
Clifford was called "the second coming of Fats Navarro" early on, and there were rumors about him.
He was a sought-after musician at that time, and had joined the Tadd Dameron band before this song.
This performance was secretly recorded when he went to France as a member of the Lionel Hampton band.
Lionel Hampton even had a guard in the lobby to make sure the young band members did not leave the hotel without permission.
Clifford and his band, however, managed to slip out the back door.
The recording had been prepared in advance by Henri Renaud and others, and Clifford participated in the recording along with his colleague Gigi Gryce and others.
In terms of performance, the highlight is from 1:59.
There are three collections of recordings from Paris.
この曲は「The Clifford Brown Sextet in Paris」にも入っていますが、そちらは現在廃盤です。
No.7「I Get a Kick out of You」(Album:Brown and Roach Incorporated)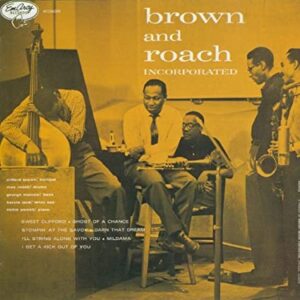 ■Song Title:I Get a Kick out of You
■Album Name:Brown and Roach Incorporated
■Video link:「I Get a Kick out of You」
This album has never been taken up as a masterpiece.
This may be because of the long drum solo by Max Roach in this song.
If you don't want to hear the drum solo, you don't have to listen to 4:37 to 6:40.
I think Harold Land's and Richie Powell's performances on this song are also average.
But nevertheless, I recommend this song because Clifford's solo is so wonderful.
His solo is from 00:55 to 3:11, and it's a wonderful performance that gives a sense of spaciousness even at a fast tempo.
The trumpet tends to sound painful and thin on high notes, but this is not the case here.
There is no break in the ad-libs, and there is no sense of desperation even in the fast tempo.
In fact, the performance is even graceful.
No.8「Donna Lee」(Album:The Beginning and the End)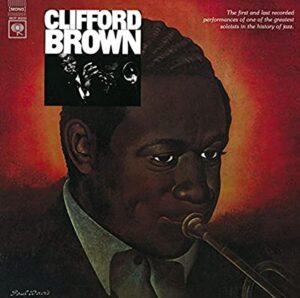 ■Song Title:Donna Lee
■Album Name:The Beginning and the End
■Video link:「Donna Lee」
This is an album that contains his first and last recordings.
However, you don't have to believe the last one, because there are testimonies that it is not true.
The first recording, "I Come from Jamaica" from 1952, is noteworthy.
The song is performed as part of a Latin R&B band led by Chris Powell.
But the best part is the last recording, "A Night". A Night in Tunisia," which is said to be his last recording, and this song.
Clifford's short life ended in a car accident in 1956. He was 25 years old.
It was a great loss for the jazz world to lose him.
In response to his death, Benny Golson wrote a memorial song called "I Remember Clifford".
Lee Morgan played that song and was the new rising star, but Lee also died at the young age of 33.
Fats Navarro also died young at the age of 26.
So many genius trumpet players die early.
No.9「Jordu」(Album:Max Roach and Clifford Brown In Concert)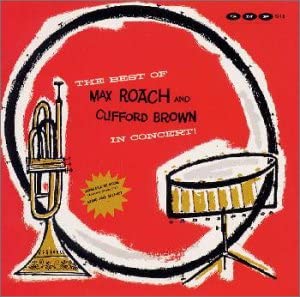 ■Song Title:Jordu
■Album Name:Max Roach and Clifford Brown In Concert
■Video link:「Jordu」
Clifford's playing is said to have great improvisational structure.
It may be a little difficult to understand what ad-lib compositional skills mean.
It often refers to a piece of music that is not played just based on the mood of the moment, but has a development that does not bore the listener.
If the performance lacks structure, the phrases will seem to just flow.
So what does a performance with compositional power look like?
Perhaps the quickest way to find out is to listen to this song.
First of all, listen to around 00:58 to 3:12.
You can hear the tangling that builds up to a climax, followed by the occasional fast phrase.
The result is a performance with a very good balance of tension and relaxation.
This is not the case with someone who only has momentum.
No.10「Move」(Album:Jam Session)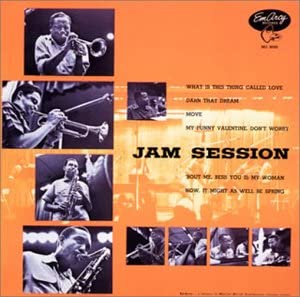 ■Song Title:Move
■Album Name:Jam Session
■Video link:「Move」
In fast tempo music, the choice of phrases tends to be limited and the performance tends to be monotonous.
There may be a lack of imagination and only high tension in the performance.
In Clifford's case, however, he never loses his imagination even in fast rhythms.
It's like someone who is an honor student but is strong in a street fight.
This song is a very rough jam session that could almost be called "punk jazz" or "fight jazz.
I mentioned a few times earlier that even fast songs can have a sense of elegance.
In this song, too, listen to the trumpet solo after the theme.
Even in a song like this, he plays with a lot of imagination.
It is true that he is technically excellent, but that is not the real greatness.
He never loses his imagination no matter what kind of music he plays.
He is truly a man of imagination.