In this article, I created a ranking of Kenny Burrell.
This man is a jazz guitarist, but he may play in a modest and unassuming way.
However, his taste is exceptional.
This time, I tried not to be too plain in my selection.
Please enjoy his bluesy jazz guitar.
This blog is an automatic translation of a Japanese blog into English.
Please understand that it mayで be difficult to read.

No.1「Midnight Blue」(Album:Midnight Blue)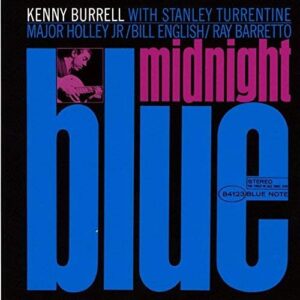 ■Song Title:Midnight Blue
■Album Name:Midnight Blue
■Video link:「Midnight Blue」
If you were to ask me what his defining performance was, how many people would be able to answer immediately?
I don't think there are that many.
Perhaps it is because his performances are so stable and of such a high standard that it is difficult to find an outstanding piece.
I have chosen this piece as number one.
This song is great on its own, but it may be a triumph for the Album as a whole.
It is often referred to as their best work, and all the songs are on the same level as this one.
Tenor saxophonist StanleyTurrentine is very active on this album, but he does not play on this song.
Also, please pay attention to the cover of this album.
Blue Note's designer, Reid Miles, has done a great job.
No.2「Greensleeves」(Album:Guitar Forms)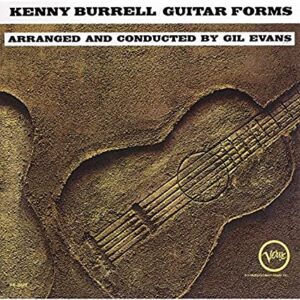 ■Song Title:Greensleeves
■Album Name:Guitar Forms
■Video link:「Greensleeves」
Greensleeves is a British folk song.
It seems to be a song of unknown authorship.
The song title, "Greensleeves," has a number of theories, but no one has been able to determine what it means.
Despite the fact that it is a well-known song, there are still many things we don't know about it.
This song was arranged by Gil Evans, a wizard of sound.
If I had to pick a fault with Burrell, it might be that the performance lacks dynamism.
He's not a player who plays for the sake of it.
However, on this song, Gil provides an arrangement that is full of ups and downs, and makes Burrell move on the score.
No.3「Kenny's Sound」(Album:Blue Bash!)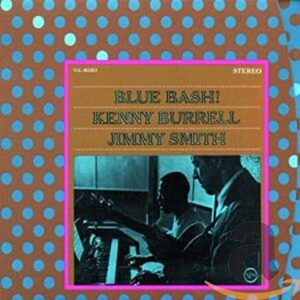 ■Song Title:Kenny's Sound
■Album Name:Blue Bash!
■Video link:「Kenny's Sound」
It seems that Burrell often plays with organists.
In addition, many of his works are excellent, and it is clear that he has a good rapport with organists.
On this album, he plays with Jimmy Smith, one of the top organists in the world.
Jimmy Smith is a man characterized by his unrestrained playing.
Barrel, on the other hand, is not that type of musician.
On the other hand, Burrell is not the type of musician that Jimmy Smith is, but perhaps inspired by him, he plays this song with a lot of tension.
First of all, the song starts off very well.
Burrell's guitar solo starts at 1:37, and it is a wonderful performance full of tension.
No.4「Perception」(Album:Kenny Burrell)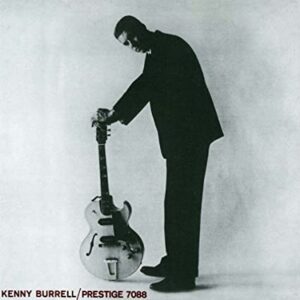 ■Song Title:Perception
■Album Name:Kenny Burrell
■Video link:「Perception」
He made his debut in 1956, and this album was released the following year in 1957.
This album was released the following year, in 1957, so it can be considered an early recording.
According to his discography, Burrell released 8 albums in 1957 alone.
If you are recognized as a talent, you will be called by various labels.
But in the early days, the player's potential is not always evident.
As you do more and more recordings, your aptitude and strengths and weaknesses will naturally become apparent.
As for Burrell, he may be a guitarist who has recorded relatively more with saxophonists and other horn players.
Now listen to the beginning of this piece.
Cecil Payne's Barrington sax is very well supported by Burrell.
Some players tend to focus only on their own solos, but Burrell seems to be one of those horn players who can show off their strengths.
In addition, the standard of his performance is stable.
He must have been a useful player in the field.
No.5「I'll Close My Eyes」(Album:Two Guitars)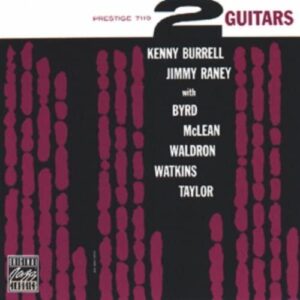 ■Song Title:I'll Close My Eyes
■Album Name:Two Guitars
■Video link:「I'll Close My Eyes」
I am in love with this song.
With apologies to Burrell, this song is Blue Mitchell.
I can't tell you how many times I've heard Blue Mitchell in my life.
If you're a jazz fan, you may have an idea, but don't you want to order your favorite songs to be played this way?
When I heard this song, I was relieved at my interpretation of the song.
By the way, this album is a joint album with Jimmy Raney, but on this song, the guitarist is only Burrell.
I would also like to draw your attention to the performance of my co-star on this song.
First of all, Mal Waldron's piano solo at 2:25 is a wonderful performance with a clear touch.
Doug Watkins' bass is also worth listening to.
No.6「Will You Still Be Mine」(Album:A Night at the Vanguard)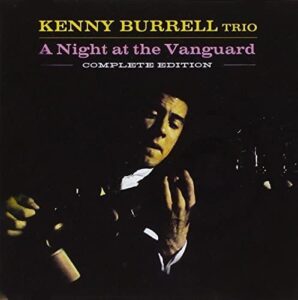 ■Song Title:Will You Still Be Mine
■Album Name:A Night at the Vanguard
■Video link:「Will You Still Be Mine」
Kenny Burrell seems to play a lot of medium tempo blues songs.
However, after listening to him again this time, I realized that there are also good performances of up-tempo songs.
This song in particular is a prime example.
Even in the fast-paced songs, he still has his own flavor.
Burrell's guitar is fast and furious, but he doesn't narrow down his sound choices even in fast songs.
On the contrary, you can feel the ideas and inspirations.
This may be due in part to the drums.
The drummer is Roy Haynes, whom I love.
He is one of the best jazz drummers who can bring out the potential of his co-performers.
No.7「Delilah」(Album:Introducing Kenny Burrell)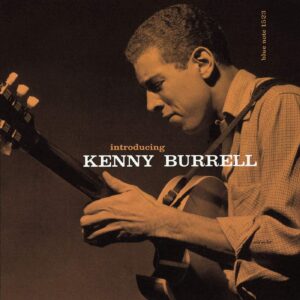 ■Song Title:Delilah
■Album Name:Introducing Kenny Burrell
■Video link:「Delilah」
This is a selection of songs from his debut album.
Burrell's debut album was discovered by Alfred Lion, the founder of Blue Note.
But before that, he was a member of Dizzy Gillespie's band.
At the time, Dizzy Gillespie was working on advanced projects such as Afro-Cuban jazz.
There are congas on this album, aren't there?
This was an unusual arrangement at the time, but perhaps it was influenced by his past experiences.
Now, I feel that there is something a little different about this person from the usual hard bop jazz.
It's like a blues player who happens to play jazz.
However, his playing style is flexible, so he can adapt to both jazz and Latin.
This song is also a very interesting mix of jazz, blues, and Latin.
No.8「As Long as I Live」(Album:A Generation Ago Today)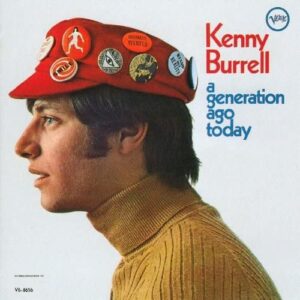 ■Song Title:As Long as I Live
■Album Name:A Generation Ago Today
■Video link:「As Long as I Live」
In this song, I am doing a bossa nova song, which is rare.
In fact, Burrell had tried bossa nova before.
Let me introduce you to that one as well.
Kenny Burrell with Gil Evans Orchestra – Moon and Sand
He is often described as bluesy, but at the same time, he is sometimes described as urban.
It may be difficult to imagine what it means to be bluesy but sophisticated.
I think the term "urban" refers to the subtle and restrained aspects of the music.
You can feel the understated aesthetic in this song.
Mike Mainieri's vibraphone also provides excellent support.
No.9「The Breeze and I」(Album:Crash!I)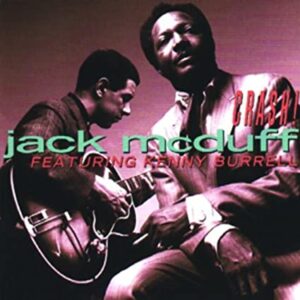 ■Song Title:The Breeze and I
■Album Name:Crash!
■Video link:「The Breeze and I」
This song was written by Cuban composer Ernesto Lecuona in 1928.
It is also played in jazz, but it is probably more of an easy listening song.
Since it is originally a Latin song, this song also has a Latin arrangement.
On this song, I perform with organist Jack McDuff.
Another famous jazz guitarist who plays with an organ is Grant Green.
However, Green and Burrell have very different tastes.
While Green plays funky and repetitive phrases, Burrell is more delicate and bluesy.
In this song, the guitar solo from the 57th second is an excellent performance that makes the most of his strengths.
No.10「Make Someone Happy」(Album:'Round Midnight)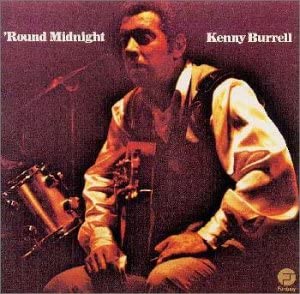 ■Song Title:Make Someone Happy
■Album Name:'Round Midnight
■Video link:「Make Someone Happy」
The reason I chose to feature him this time is because I wanted him to be heard more.
He is a very simple player, so I consciously tried to play more flashy songs.
It may still be a bit plain.
I decided to open up and choose a very plain song at the end.
It is mainly during the late hours of the night that I feel like listening to this person.
More than once, I have taken out this album when I could not sleep late at night.
When I listen to this album, I feel as if the various emotions scattered during the day are settling down.
When I put on the Album, the silence seems to stand out even more.
I recommend this song to those who have trouble sleeping.