This time I have created a ranking of Patti Smith.
The order is slightly different from the usual.
For convenience, I have ranked the songs in the order of their release, with the exception of a few.
This is because I thought it would be easier to convey her appeal.
I tried to follow the process of her becoming a more mature artist.
This blog is an automatic translation of a Japanese blog into English.
Please understand that it may be difficult to read.

No.1「Free Money」(Album:Horses)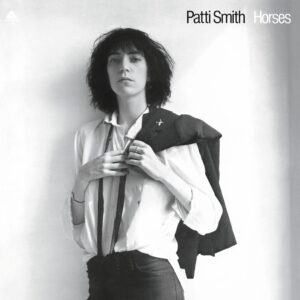 ■Song Title:Free Money
■Album Name:Horses
■Video link:「Free Money」
At the time she was struggling for money.
She wanted to study art in college and had been working since she was 15 to earn money for school.
With the money she earned on her own and a scholarship, she was able to go to college.
However, after entering the university, she got pregnant, and although she managed to give birth, she had to quit the university instead.
She did not have enough money to raise a child, so she decided to give the child up for adoption.
After quitting the university, she started working at a local factory.
But one day, she made up her mind.
She wanted to go to New York.
So she went to New York, but when she arrived, she had only $16 in her pocket.
She was poor even in New York and was almost homeless for a while.
This song may be the message she wanted to convey because she was such a poor person.
No.2「Gloria」(Album:Horses)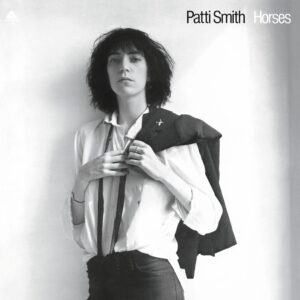 ■Song Title:Gloria
■Album Name:Horses
■Video link:「Gloria」
This album is also famous for its cover.
It was taken by Robert Mapplethorpe, who was her boyfriend at the time.
Incidentally, the purpose of her coming to New York was to become the mistress of someone she admired, such as Bob Dylan.
Although she was interested in art, she didn't think of herself as an artist at the time.
She was just one of the many.
It was Robert who encouraged her to express herself.
Later, she worked, wrote poetry, drew pictures, and even acted in plays.
In this picture, she is not a normal girl, she doesn't want to be normal.
In this photo, we can see that Robert was a man who understood her.
No.3「Ask the Angels」(Album:Radio Ethiopia)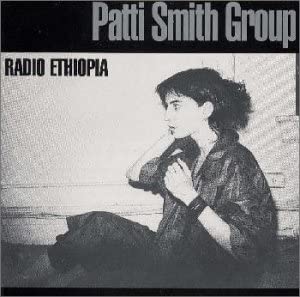 ■Song Title:Ask the Angels
■Album Name:Radio Ethiopia
■Video link:「Ask the Angels」
This is a selection of songs from the second album.
This album features Jack Douglas, famous for his work with Aerosmith, as the producer.
At this point, Patti wanted a more rock and roll sound.
She was influenced by the MC5, with whom her future husband, Fred "Sonic" Smith, was working.
This song in particular may be a very clear example of what she wanted to do.
There is a part in the lyrics that says "Roxk and roll is what I'm born to be".
Also, this album is now under the name "Patti Smith Group".
It's not a solo album, but a band album.
I think that's why it sounds more like a band than the previous album.
No.4「Because the Night」(Album:Easter)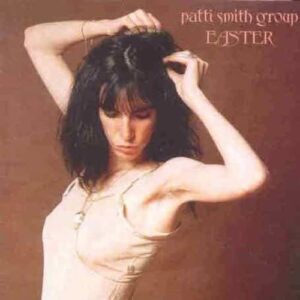 ■Song Title:Because the Night
■Album Name:Easter
■Video link:「Because the Night」
This song is a duet with Bruce Springsteen.
It is her most successful song.
Bruce is from New Jersey, and Patti lived there for a while, so they must have been connected somehow.
Patti, on the other hand, was recuperating before this album.
On the tour after "Radio Ethiopia", she fell from a stage nearly 5 meters high and injured her neck vertebrae.
Therefore, there was a two-year gap between the last album and this one.
That period was a good opportunity for him to think about the future.
Some people deny that this album is more pop-oriented, but musically, it seems to have matured more.
This album is a success in de-punking.
No.5「Frederick」(Album:Wave)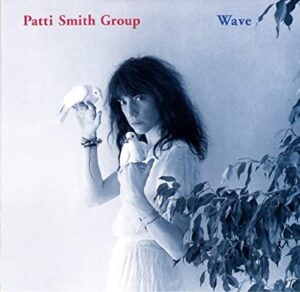 ■Song Title:Frederick
■Album Name:Wave
■Video link:「Frederick」
This album was produced by Todd Rundgren, which became a hot topic.
At the time, she was at the height of her happiness.
She was in a relationship with Fred Sonic Smith of the MC5, whom she had been a fan of for a long time.
The song title "Frederick" refers to him.
When I read the lyrics, I was a little confused.
I was a little puzzled when I read the lyrics, because the song is sung frankly about feelings of love.
The jacket looks like a bride, and there is even a dove.
But the eyes are sharp.
After this, the two will get married.
No.6「Summer Cannibals」(Album:Gone Again)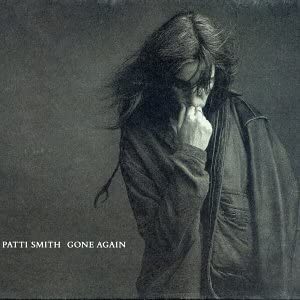 ■Song Title:Summer Cannibals
■Album Name:Gone Again
■Video link:「Summer Cannibals」
Since her marriage, she has been very happy with her life.
Her last album was titled "Dream Of Life".
Some of the songs, such as "People Have the Power," have a strong message, but others, such as "The Jackson Song," dedicated to her son, evoke a sense of motherhood.
However, the happy life came to an abrupt end.
In 1994, Fred passed away suddenly from an acute myocardial infarction.
So, this album was created.
The name of the song is quite disturbing, but I think she must have been in a lot of pain at that time.
No.7「1959」(Album:Peace And Noise)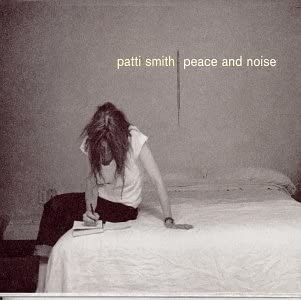 ■Song Title:1959
■Album Name:Peace And Noise
■Video link:「1959」
This song is about the "Tibetan Uprising" which caused a lot of casualties.
The song deals with the same theme as the movie "Seven Years in Tibet", and if she releases such a song, she is sure to be shut out of the Chinese market.
But she didn't care about that.
For her at that time, punk was a way to get ahead.
It was a way to get out of her poor life and grab Gloria.
Later, however, she began to focus on social issues.
At that time, there was a movement from the music industry to protest and support the Tibetan issue.
In 1997, the "Second Free Tibet Tibetan Freedom Concert" was held, and Patti participated in it.
No.8「Glitter in Their Eyes」(Album:Gung Ho)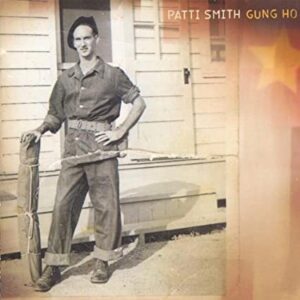 ■Song Title:Glitter in Their Eyes
■Album Name:Gung Ho
■Video link:「Glitter in Their Eyes」
When talking about Patti, there is one more important man.
He is Lenny Kaye, a music critic, guitarist for the Patti Smith Group, and an old friend.
In 1971, four years before her debut, he was already playing guitar behind her.
He has played guitar on most of her albums since then.
The only song he didn't play on was "Dream of Life," on which her husband played guitar, and when Fred died, he played guitar backing her again.
I wonder if she was concerned about her husband.
Renee had a deep knowledge of music and was famous for producing the famous garage rock compilation "Nuggets".
He was a man of many talents, active in the field of music criticism, and could also write songs.
He was always quietly playing guitar in the background of Patti.
He also played on Patti's latest album, "Banga," released in 2012.
We have been friends for over 40 years.
No.9「Amerigo」(Album:Banga)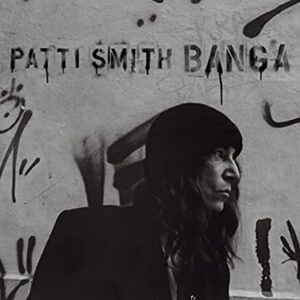 ■Song Title:Amerigo
■Album Name:Banga
■Video link:「Amerigo」
This song begins with a poetry reading.
She was a poet from the very beginning.
Here is her debut single, "Piss Factory," which is called her fantastic or hidden masterpiece.
This is a 1974 single, so it was written before her Album debut.
It's just reciting poetry, but it's a wonderful song.
Incidentally, when she was a girl, she hated the fact that she was a woman.
She read poetry as if she was escaping from reality.
She loved the poet Arthur Rimbaud the most at that time.
She was a rock and roller as well as a poet.
No.10「Pastime Paradise」(Album:Twelve)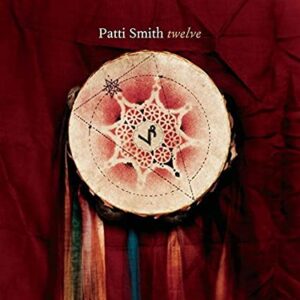 ■Song Title:Pastime Paradise
■Album Name:Twelve
■Video link:「Pastime Paradise」
Well, this song is a cover of a Stevie Wonder song.
I also covered Nirvana's "Smells Like Teen Spirit," which is also a good one.
This person may be the ideal person to age as a rock woman.
She keeps her freshness, and at the same time, she has acquired a depth that matches her age.
By the way, Patti was not young when she made her debut at the age of 29.
Considering that she came out of the punk scene, we can say that she was quite late.
She has since become a mature and expressive artist.
Now this song has the lyrics, "Let's live for the paradise of the future.
When she sings it, you can feel its persuasiveness.